On May 25, 2001 a gentleman named Erik Weihenmayer reached the summit of Mount Everest. Mount Everest is the Earth's highest mountain, with a peak at 8,848 metres (29,029 ft) above sea level. Edmund Hillary and Tenzing Norgay climbed Mount Everest first.
What is astonishing about Erik Weihenmayer is that he is the first blind person to reach the summit. He has been blind from the age of 13.
Erik Weihenmayer redefines what it means to be blind, Erik has transformed the image of blindness and opened up the minds of people around the world. He has never let his "disability" interfere with his passion for an exhilarating and fulfilling life.
To me he demonstrates that we each can achieve amazing things. Through his life he inspires others to have the vision to dream big; the courage to reach for near impossible goals; and the grit, determination, and ingenuity to transform their lives into "something miraculous."
"Success is not just the crowning moment, the spiking of the ball in the end zone or the raising of the flag on the summit. It is the whole process of reaching for a goal and, sometimes, it begins with failure."
If something in life is worth achieving, we can go beyond our comfort zones and stretch ourselves. No opportunity is impossible. You just want to have it enough. Some one like Eric Weihenmayer is proof to all that you can go for your dreams and overcome huge obstacles.
He doesn't stop at climbing just one mountain either. He has climbed the tallest peaks on all the continents, known as the Seven Summits. His adventures don't stop there either, he has jumped out of airplanes solo sky-diving, mountain-biked Leadville, and soon will attempt solo-kayak the Grand Canyon.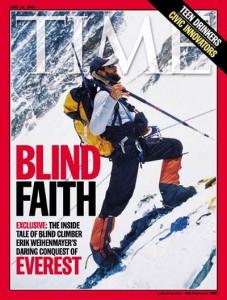 His extraordinary accomplishments have seen him on NBC's Today Show and Nightly News with Tom Brokaw, Oprah, Good Morning America, and the Tonight Show, to name a few. He has also been featured on the cover of Time magazine and in Sports Illustrated, People, and Men's Journal.
Erik's life is an example to us all showing that you can overcome life's challenges, so use him as your inspiration to never make excuses but simply go for your dreams.
You can check out his website at http://www.touchthetop.com/