Life Planning With Larry Lewis
Workshops
Are you, your friends, family, community members, employees, clients, church members or local community group looking for the inspiration and resources to create her/his best year yet? We can present a 1 day workshop to your group or organization. Each member of the workshop will leave with their 4 most important life goals to work on over the next 365 days and will have created their very own Single Page Plan for how to achieve them.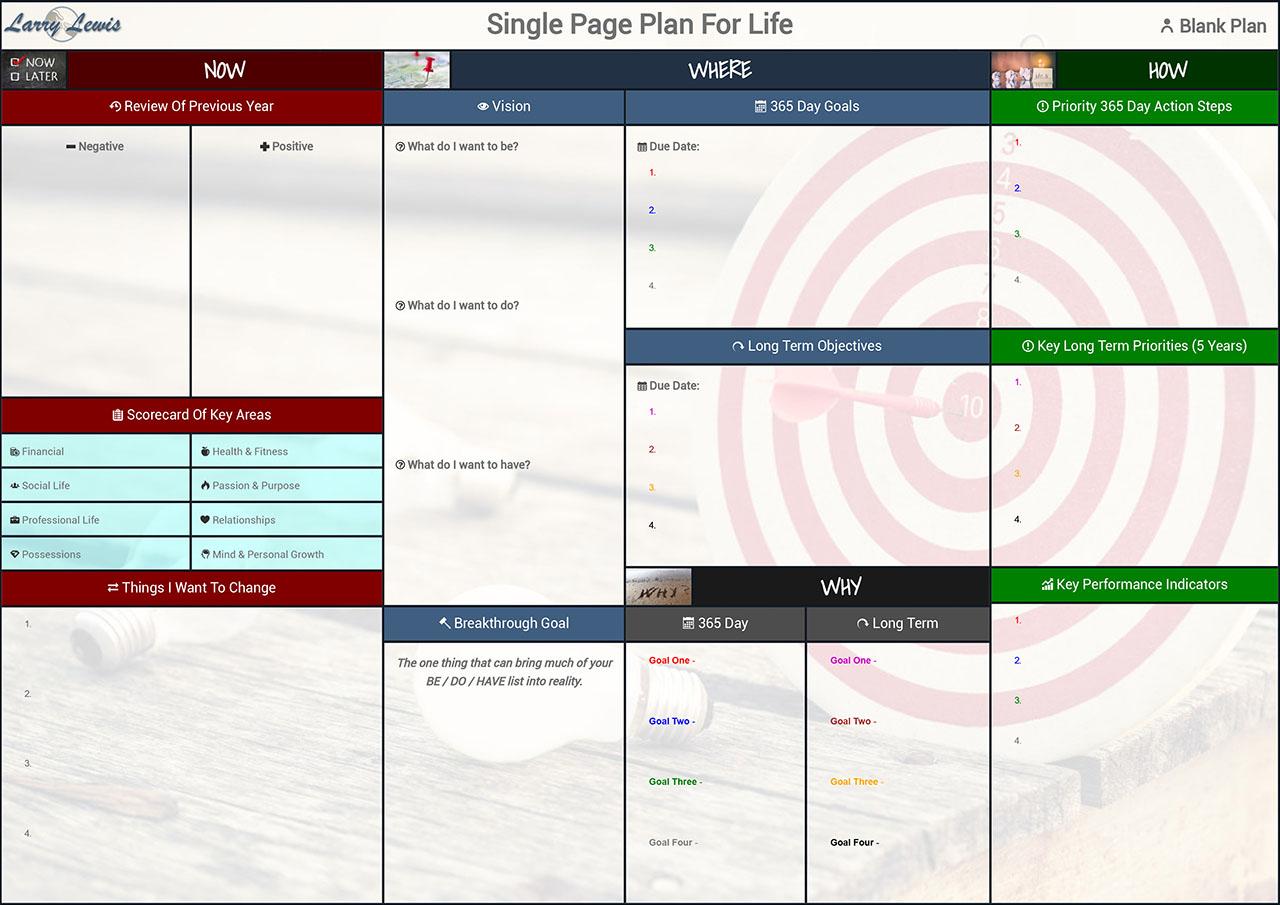 What are you going to do to make the next 365 days better than the ones before?
What do you need that will enable you to achieve your ambitious, lofty goals?
Are you struggling where life seems to be nothing but dealing with problems and no better than mediocre?
Are you someone drifting through life with no clear direction?
You Need A Life Plan!
Many of you spend more time planning your summer holiday than planning the rest of your life. Two weeks of fun and relaxation surely isn't your sole aim in life? You can make a massive difference by taking control and mapping out the life you want to live, taking an active role shaping your very own future.
This is exactly what the Single Page Plan for Life will enable you to do!
---
The Single Page Plan is a process for getting clear on how you want to live and developing a plan to help make it happen enabling you to make the best use of your time and effort all on a single page
---
With a simple and focused layout, the Single Page Plan will help you to go through a process to provide you with the blueprint for your next 365 days. It's about creating a master plan for life getting crystal clear on what you want to achieve and how you will achieve it.
---
The Single Page Plan is a simple yet powerful system which gives you clarity and focus, showing you where you are in life, exactly where you want to get to, and what to do to bridge the gap determining a breakthrough goal to be achieved in the next 365 days.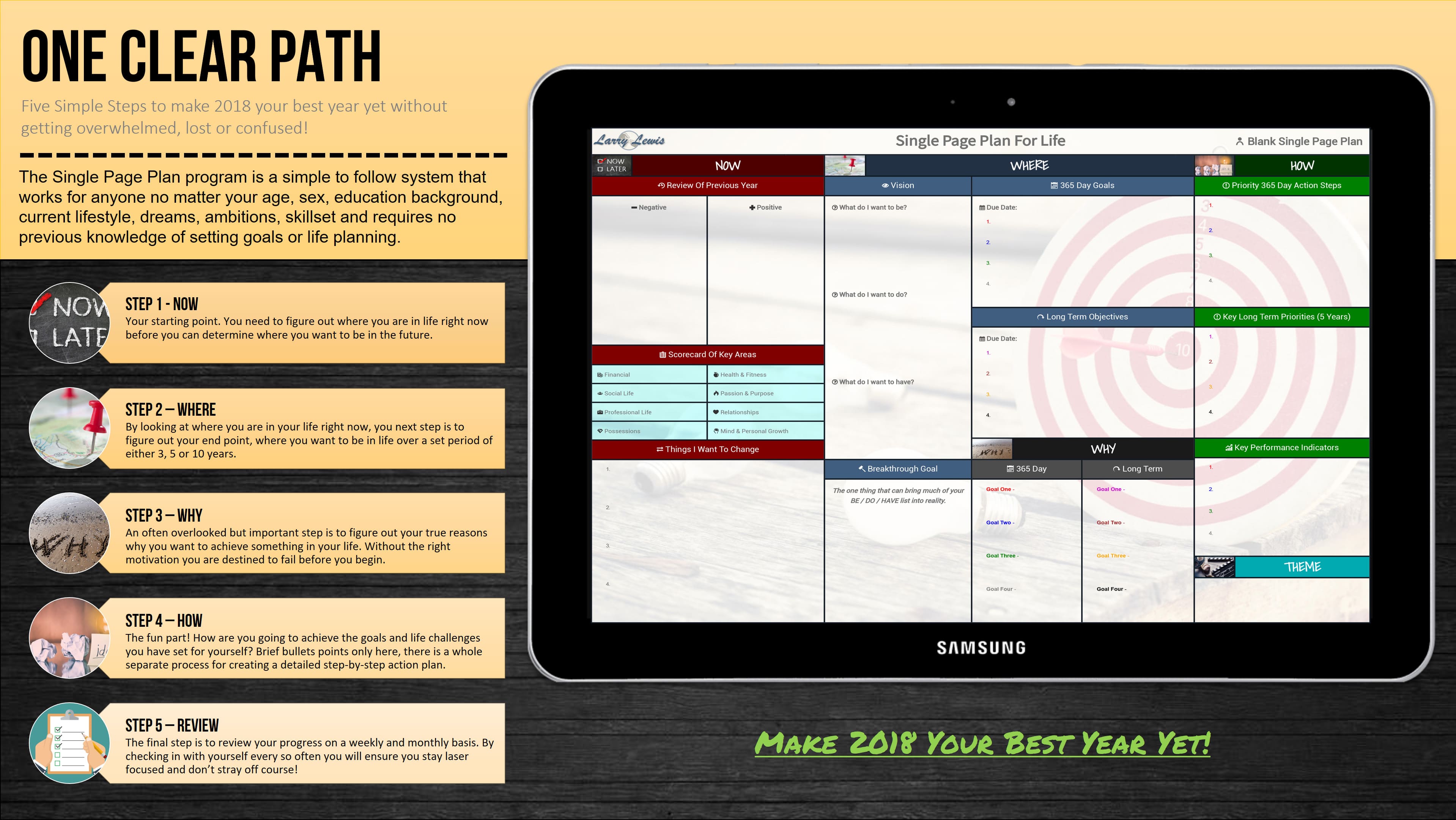 I will show you my incredibly powerful yet really simple 5-step goal achieving process.
1. Start by assessing your life as it is today. It's important to review your last 365 days. What were your successes, and where did you come up short? What's Working? What's not working?
2. You need to deliberately start building your blueprint for the next 12 months. You're going to be asking yourself "What do you really want in the future".
3. You have to understand what really drives you, your WHY. The empowering reasons, white-hot burning reasons, for setting your specific goals.
4. Work out the steps, actions, and tasks, you must take to achieve your short term/365 day goals over the next 12 months.
5. Leave nothing to chance. Implement your own measurements to review progress and make changes where necessary.
And the tools to ensure you stay on track!
You will take home a plan for your next 365 days on a single page, plus:
Single Page Plan Template
A Daily Journal Sheet
A Weekly Review Sheet
A Monthly Review Sheet
An Annual Review Sheet
An Action Plan Template
The Single Page Plan takes you through simple steps which will bring you clarity to how life is for you now. Let you determine where you want life to go, getting you to ask yourself why you want this outcome, then how to achieve it. You will be placing all this key personal information on one page of paper which will provide you with the focus and motivation to keep taking action and making progress.
In this workshop you'll learn how to:
Self-reflect on your days and use this to inspire your changes
Design your perfect life
Determine your BHAG/ Breakthrough Goal for the next 365 days
Set goals that you will not give up on
Know your why
Have an action plan to work towards your goals
Be ready to implement the steps to ensure success
KPI to monitor your progress
This Workshop Is Ideal For:
Everyone who wants to make their next 365 days their best year yet!
If you are feeling stuck and wondering "What's next"
People who believe that they can do much better in life but are not sure how to make it happen
Anyone who is ready to improve their lifestyle
Professionals who want to progress in their career
Recent graduates who want to start off the right way
Those who are ready to start living the lifestyle they daydream about
If you're still asking the question "What do I want to do with my life"
Or perhaps if you have been longing for something more or different in your life, but are not sure how to get from here to there.
Suggested Format:
9:30am – Registration
10:00am to 12:30pm – First Part
12:30pm to 1:30pm – Break
1:30pm to 4pm – Second Part
4pm – Finish
Larry is a professional life coach, entrepreneur and speaker. As an entrepreneur he has built his coaching practice into a highly profitable business in just three years, but he feels most accomplished in how he has designed his life so that he is able to carry out his passion helping others achieve their full potential while being able to do the things he most enjoys.
Let him walk you through the five steps necessary to set and achieve significant goals and create the life you want and deserve
He is dedicated to helping each participant realise their potential and begin to act on it through this event.
---
What would it mean for you and your family if you could finally turn your dreams and aspirations into concrete achievements? Not only would it propel you to a completely new level of experience, confidence, and accomplishment but it would likely have a domino effect on your life for years to come.
CONTACT US FOR MORE INFORMATION
The cost is £100 per participant (minimum of 10 people). Travel costs for my team will also be applicable for venues outside the North East of England.